The Americans with Disabilities Act (or ADA for short) is a law signed in 1990 by President Bush in an effort to protect the civil rights of the disabled. It was crafted with a similar nod to the Civil Rights Act of 1964, which proclaimed it illegal to discriminate against anyone for race, religion, sex, color, or national origin.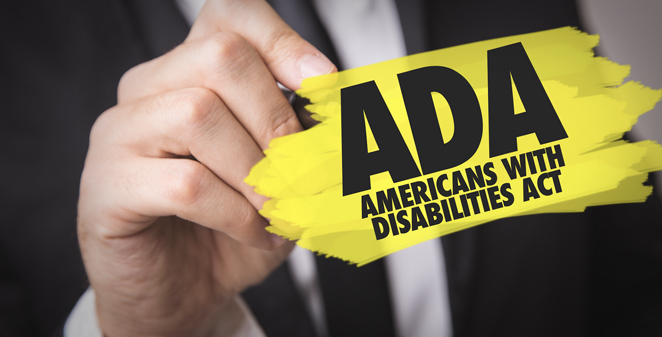 The ADA affects many aspects of daily life, and elevators are no exception. ADA accessibility laws exist in any building higher than three stories tall or encompassing less than 3,000 sq ft. In creating products for use within elevators, as well as the cars themselves, even the smallest dimensions must be taken into account. Here at Mowrey, we always abide by ADA accessibility laws when crafting your elevator, dumbwaiter and lift products. This is why you'll see we include exact dimensions for everything from car buttons to handrails.
As such, we take ADA compliance very seriously.
ADA Requirements for Elevators
The law says that…
Chimes must announce the arrival of each cab at each floor or as they pass each floor when not stopping.
Hall and car buttons must be at a height of 42″.
Call buttons must feature a diameter of at least 0.75″.
Braille plates must be posted adjacent to buttons and at the jambs of entrances.
Handrails must be located at 30″.
Each cab must be able to adequately fit a wheelchair while accommodating a 360-degree turn.
Doors must be able to re-open without employing physical contact.
Emergency buttons must be installed at least 35 inches from the floor.
Visit the ADA site for even more detailed requirements regarding hall lantern fixtures, signal timing, floor plans and door delays.
Guidelines
If your building has elevators, you must follow these guidelines:
Size of Car: Must accommodate a certain # of people, including those in wheelchairs, for the comfort of all passengers as well as to meet turn radius requirements.
Placement/Operation of Elevators: Visitors must be able to get onto and out of elevators in public spaces in a comfortable manner. Elevator non-compliance can occur if located within an inaccessible area of the building.
Floors: Slip-resistant flooring must be installed in all cars. No folds, wrinkles or grooves can be present in carpet.
Self-Leveling: The cab floor must automatically level itself so it's flush with the hallway or lobby floor when stopped.
Contact Mowrey Elevator
To learn more about Mowrey's ADA elevator compliance, please call us with any questions. It's our job to ensure you completely understand the compliance process and how we adhere to it for your utmost safety and comfort.