There are a multitude of options when it comes to elevators and lifts. The choices can seem overwhelming at times, but there are certain considerations to think of when deciding on which type to go with. From budget to space constraints, we'll go over these considerations here.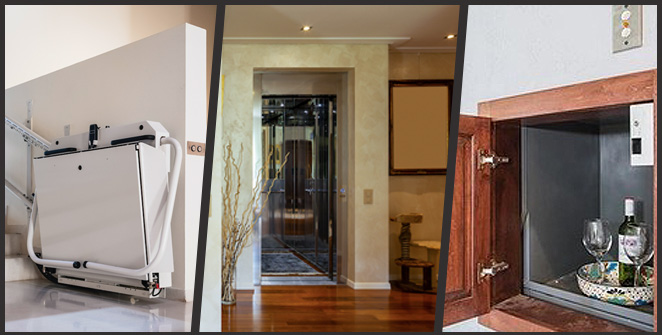 First, let's go over the more obscure and specialized lifts that schools, businesses, government agencies, restaurants and warehouses may need. This selection shows you just how far-reaching elevator types can be, with the ability to cater to just about any industry.
Belt elevator: Can transport material over inclined planes on a conveyor belt.
Dumbwaiter: Can transport food and other kitchen supplies within homes, cruise ships, hotels and restaurants.
Stage elevators: Can lift the stage in theaters, transporting musicians and performers to the main level.
Vehicle elevators: Can transfer cars in parking garages or buildings.
Aircraft elevators: Can transport vehicles and goods from the internal hangars to the flight deck of various aircraft.
Wheelchair lifts: Can transport wheelchair-bound passengers between a small number of floors.
Now, here are more mainstream lift types to consider:
Commercial Passenger Elevators
Made for commercial use in multi-story office buildings, high rises and doctor's parks, these cabs carry groups of people or freight from one level to another quickly.
Residential Elevators
Made to accommodate a much smaller scale, these are for home use and to help with the mobility of homeowners, food, luggage, and more. Some are functional, such as dumbwaiters, while others are luxury elevators that pull out all the stops. You can install these indoors or outdoors. Similar types, such as stair lifts, attach to your stairway and help those with limited mobility access upper floors.
Types: Operating Systems
Within each type of elevator, there are various operating systems. The two main ones are hydraulic and traction or cable-driven elevators.
Hydraulic elevators are cars that are attached to a lifting system, situated inside a shaft, and attached to guide rails. This lift gets its power from hydraulics, or a fluid-driven piston inside the cylinder. Mowrey recommends this type for low rise buildings in most cases.
Traction elevators get their power from electricity, and offer a smoother, more stable ride thanks to a variable speed drive, programmable controller and on-board diagnostics. They require the combination of a pulley, counterweight, electric motor, and track to move. With the counterweight in place, the elevator uses up less energy.
Considerations
When considering which type of lift to choose, you have to take certain things into consideration, such as:
Cost
Amount of available space you need
Intended usage
Load capacity
Design requirements
Placement
Timeline for completion
Elevator size
Potential safety risks
Warranty options
Contact Mowrey Elevator
If you would like to know more about the lifts and elevators Mowrey can install and repair, contact us today. We can also help you decide which system will align best with your needs.