As a general rule, elevators should be serviced once a month. In addition to light daily and monthly maintenance, you should also schedule safety inspections and repair services once a year. Here's how often you should perform different types of maintenance, and what needs to be done on a daily, monthly and yearly basis.
Hint: getting on a maintenance plan with your elevator service provider is a smart idea so you don't miss anything!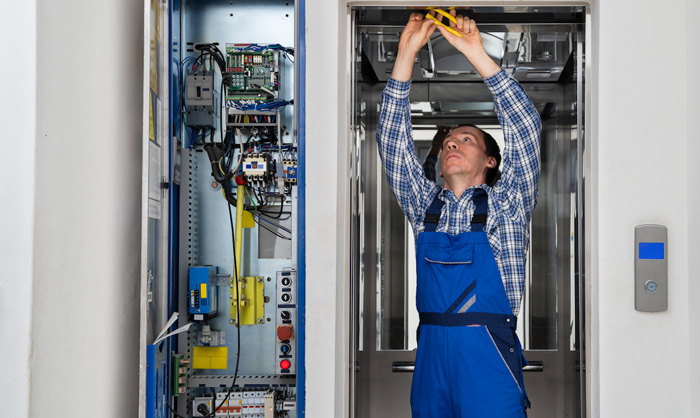 From weird noises to sluggish elevators, there are many signs your elevator needs servicing or even replacement. Nothing lasts forever, even with TLC!
Daily Maintenance
Keep a log of any operational problems with your elevators: Track how often your elevator needs service, which can help you diagnose future problems. Your elevator repair technician can then refer to that log whenever he or she visits the site for an inspection. This log also helps you track any patterns that have developed, such as certain issues or certain times of the day that things go wrong.
Conduct daily inspections: Go through each elevator each day to check the logs and do a general check of the unit. Keep an eye out for even the smallest issues, which can alert you to a potential problem. Check for burnt out cab lights, malfunctioning buttons, dirty elevators, etc.
Clean the elevators: Make sure any mirrored components are wiped down at least once a day. Sanitize all high-touch surfaces every day, such as call buttons and railings. Don't use strong industrial cleaners, which can corrode metal surfaces and result in internal mechanical failures. Use only recommended cleaners from your elevator company.
Monthly Maintenance
Monthly maintenance should be performed by certified elevator technicians only. It doesn't have to be exhaustive, but it should hit all the basics, such as the above points as well as adjustments, lubrication, and examination to ensure safe and reliable operation.
Yearly Maintenance
Yearly maintenance should be conducted in the form of a formal inspection. This is what is required by law in most places. Equipment testing, for example, is conducted annually to comply with local government requirements. Engineers usually have to sign and seal certifications.
Here's a general checklist to refer to:
Inside the Car
The door should be able to open and close properly, without obstructions
Check for damage to handrails, walls, and ceilings
Check and replace broken lights
The emergency phone connected to the elevator cab should be in proper operation
Outside the Car
Inspect all door panels
Replace broken lights at all levels
Test the fire alarms
Top of The Car
Make sure there is no damage to cables
Test the brakes
Ensure the presence of an emergency exit
Check the hoistway for vandalism signs
Machine Room
Check oil levels and ensure proper lubrication in all components
Remove objects that hinder equipment access
Check electrical wiring for fraying
There should be sufficient headroom for technicians
The Pit
This area should have adequate access
Check for clearance
Check for the presence of debris, water or dirt
Look for signs of damage on car frame
Contact Mowrey Elevator
When you need maintenance or inspections, come to Mowrey, where we offer our Mowrey Maintenance Agreement and Mowrey Inspection Service at an affordable price.