In the market for a home elevator? Congrats! It will make a great addition to your house, something that will come in handy for everyone in the family. But just as you would when planning anything else – a vacation, a car purchase, etc. – it's important to come up with a budget first so you can better know what features you can afford.
Whether you're planning on a dumbwaiter, stair chair, wheelchair lift or passenger elevator, you have a lot to think about when deciding on a residential elevator.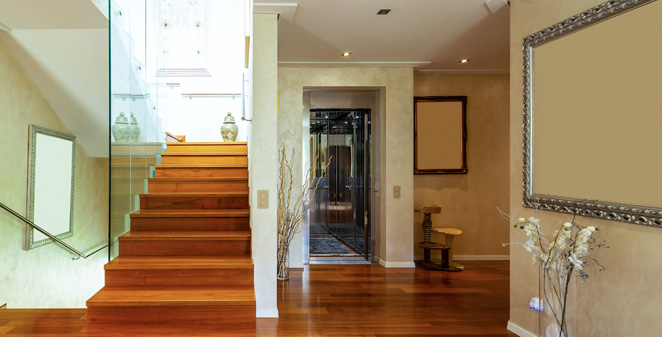 Home Advisor says the national average price for elevators or stair lifts is $4,300 (usually ranging between $2,600 and $6,200). However, with the wide variety of styles, models and customizations available, you can spend anywhere from the low thousands to tens of thousands of dollars. With those wide price ranges, it can be tough to know which one to buy without having a budget in mind.
Here are some questions to think about when crafting a residential elevator budget.
What Do You Need/Want?
Maybe you like to host a lot of parties and are tired of schlepping up and down a flight of stairs to serve food to your guests. A dumbwaiter would be a great solution. Or, perhaps you invited your elderly in-laws to live with you but they are mobility-challenged. In that case, a stair chair or wheelchair lift would be perfect. Only when you know what you need can you move on to the budgeting phase.
What's the Magic Number?
Now it's time to start crunching numbers. Whether you have a strict dollar amount you absolutely can't go over or you just know of a ballpark figure to try and stick to, you need a come up with a budget as a guide for the rest of the process. Do your homework, getting in touch with a few companies so you can compare costs of installation and labor. Perhaps your accountant can tell you if you qualify for any tax write offs or credits for putting in a wheelchair lift for an aging parent that you are the caregiver for. It can't hurt to ask.
But budgeting for the initial cost is one thing – it's quite another to add in a cushion for yearly maintenance and safety inspections. Call your state governing agency to see how frequently you need inspections. Neglecting maintenance is never wise, as you reduce your elevator's lifespan while decreasing its value.
What Upgrades and Features Do You Want?
There is a basic cost to install an elevator, and then there are additional costs for any upgrades or design features you want to incorporate. In talking with your elevator provider or contractor, you can bounce ideas off them and decide what you really need without going over budget.
Now that you have a budget in mind, it's time to call Mowrey Elevator to inquire about our residential elevator options and get going on your project.