Having a private elevator in your home is a convenience that many homeowners appreciate. However, safety is still of paramount importance, just like it is with commercial elevators. Go over these safety tips before having an elevator installed in your home and review them periodically with everyone in the home.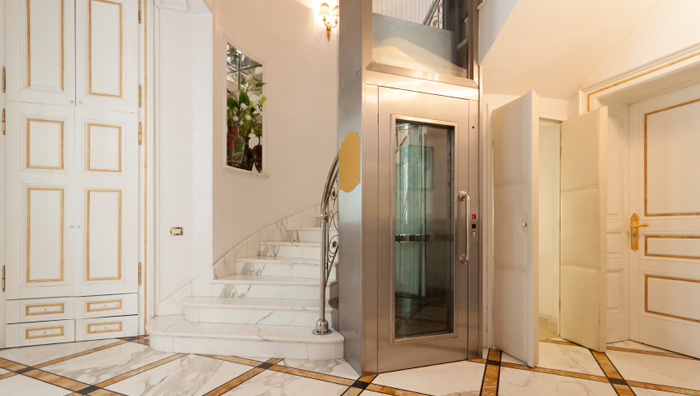 Make sure your residential elevator is installed with the proper safety features in the first place: This means your elevator should contain low steps and no lip for easy entry and exit, non-slip floor, built-in grab bars, code compliant doors, and rechargeable batteries to ensure seamless operation in the event of a power outage.
Have the name of a contractor on speed dial: You should know an emergency elevator technician in your area that offers 24/7 emergency service. In the unfortunate event that you get stuck in the elevator cab, you want to be able to call a service technician who can come out right away to address the problem.
Have a properly working phone: That leads us to the next "must": a working phone within the elevator. When riding in your own elevator, it's unlikely you will always have your cell phone on you. That's why you need an emergency phone you can use to call for help.
Stick to the weight limits: Residential elevators tend to be smaller than commercial ones, and come with their own weight limits. Don't overstuff the elevator with luggage, laundry and furniture. Take a few trips instead of one big one. You also need to safely get all those items out of the elevator once at your stop.
Teach kids about elevator safety: This includes no horseplay, no pushing, getting on and off carefully, and treating the buttons and the rest of the cab with care. Kids and adults alike should keep hands and feet out of the way of the closing doors. Instead, hold onto grab bars and railings for safety. Instruct your children to NEVER play on or near the elevator! Children should not be allowed to operate the elevator without close adult supervision.
Watch your step when getting off, as sometimes the floor and elevator don't always line up perfectly. If this keeps happening, have your elevator maintenance technician take a look.
If stuck, call for help. Do not try to pry the doors open yourself. Teach kids emergency preparedness and how to use the phone to call for help should the need arise.
Push buttons once for your desired floor. Have patience when waiting for doors to close. Don't push the buttons repeatedly or try to encourage the doors to open or close quicker than they are supposed to.
Don't use your elevator if there is a fire in your home. Use the stairs and get out quickly.
For more tips and to schedule any needed repair requests, call the experts at Mowrey Elevator at 800-441-4449.