Elevator repair and maintenance will prolong the life of your commercial elevator, leading to fewer repairs and reduced risk of premature failure. As a commercial property owner, check out these critical elevator repair and maintenance tips that can help you avoid inconvenient long-term outages.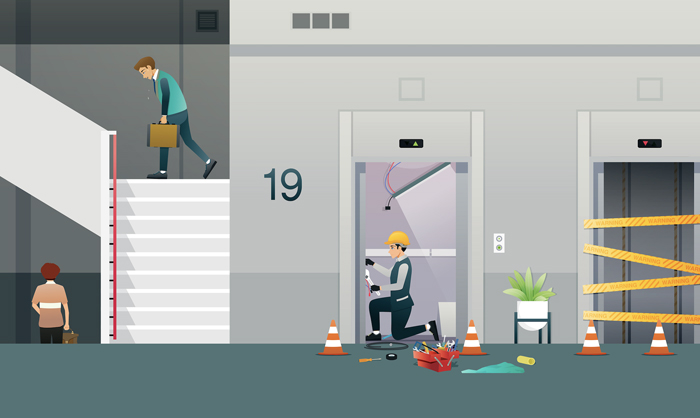 First, let's go over why preventative maintenance on your commercial elevator is imperative. In a nutshell, preventive maintenance reduces costs and your attention to daily matters that could be avoided.
Regular, on-site preventive maintenance allows you to sustain the performance of your elevator while improving its lifespan.
Emergency repairs can be very expensive, especially when occurring after hours or on the weekend. Maintenance can keep those surprises at bay.
Ignoring preventive maintenance makes your elevator system a liability because it is no longer in compliance with the law. When you let small issues go, they get bigger and more costly to fix.
Addressing these small issues now will make sure your commercial elevator lasts as long as it was designed to. After all, you probably can't afford to replace your elevator several years before you have to.
Top 5 Tips: Maintenance
1. Perform Daily Inspections
You should be inspecting your elevator every day – doesn't have to be invasive, just a quick glance around to make sure there has been no vandalism and things are working properly.
2. Keep a Log
Keep an accurate log on the repairs or maintenance tasks that have to be done, and that have already been done. Jot down any weird sounds you may have heard from the unit or machine room and note problematic issues such as uneven doors. This will make it easier on your elevator repair service so they can quickly diagnose the problem.
3. Replace Malfunctioning Equipment
Be sure to replace light bulbs, switches, alarms, and call buttons that aren't working immediately. This will prevent unfortunate accidents or delays in service.
4. Don't Use Industrial Cleaners
These types of cleaners can corrode the elevator's internal mechanisms. Leave deep cleaning up to your elevator repair company or ask them to recommend a good cleaner.
5. Don't Overload the Elevator
A top cause of wear and tear is overloading the elevator cab. This strains all mechanisms and can pose a danger to passengers. Follow weight limits and only transport goods that weigh no more than a quarter of max capacity.
Contact Mowrey Elevator
Properly maintaining your commercial elevator allows it to function better and gives the unit a longer lifespan. It's important to protect your investment, which Mowrey can help you with thanks to our preventive maintenance program that includes:
Routine Examinations
Housekeeping
Parts Replacement
Record Keeping
Adjustments
Testing
Communication
Lubrication
Check out our Mowrey Advantage, which includes our maintenance agreement, elevator telephone service and inspection service.