While you may take elevators for granted, it's important to be aware of how to safely use one so you don't get hurt. From paying attention to the level of the floor when entering the car to keeping hands clear of the doors, there are many ways you can stay safe while in an elevator. Teach your kids elevator safety so they can be responsible users too.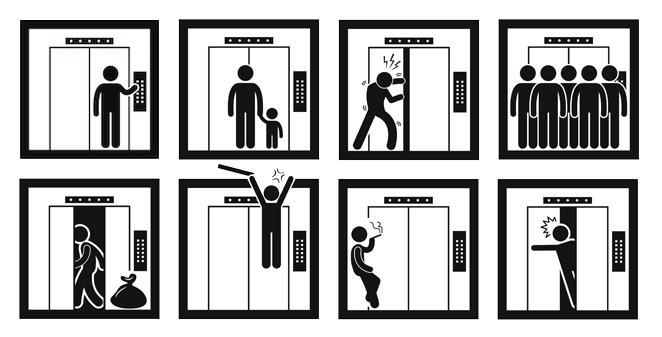 Keep in mind that elevators should be treated like any other type of moving equipment. They have the ability to hurt passengers if not treated with respect and caution. Entering and exiting quickly is one of the top safety tips you can heed, which keeps everything flowing smoothly. If another passenger is a slow mover, press the Door Open button to allow them ample time to get on and off. This is just good elevator etiquette.
When the doors open and close, stand clear of the doors and keep your hands and feet inside at all times. Make sure you don't have any loose clothing or scarves that can get stuck. While elevators safely transport millions of people every day, it's always wise to heed some basic elevator safety tips.
Don't overload the elevator.
Don't leave a moving elevator.
Don't force elevator doors open.
Remain calm in an emergency and use the in-car telephone or alarm to get help.
In case of fire, refrain from using the elevator.
Watch your step getting on and off.
Don't interfere with doors that are opening or closing.
Know your destination, pushing the correct floor number, or up or down button, for the desired direction.
Stand aside to allow exiting passengers to get by.
If the elevator is full when it arrives, just wait for the next one.
Don't try to stop a door from closing with your hands, feet or canes. Just be patient and wait for the next car to come along.
Enter and exit carefully, watching your step. Sometimes the floor and elevator don't match up correctly, leading to a tripping hazard.
Hold children firmly by the hand when entering and exiting.
Hold on to any handrails, if available.
Keep an eye on the floor indicators so you can get off promptly.
Push the Door Open button if the doors don't open when the elevator stops.
Be considerate of other passengers. Don't smoke, talk on your phone or engage in conversation that's too close for comfort.
Keep the elevator clean while you are on it. Don't drop trash on the floor.
One final note of caution for elevator owners or property managers…stay up to date with all elevator inspections for the safety of your tenants, employees and guests. Get repairs done immediately if an issue is detected. Call Mowrey Elevator for repairs and inspections today at 800-