Think an elevator for your home seems extravagant? Well, think again. It's actually quite a practical idea for anyone of any age. From seniors with limited mobility to large families to those who host guests frequently, a residential elevator brings many benefits to young and old. Here, we will go over the benefits of home elevators.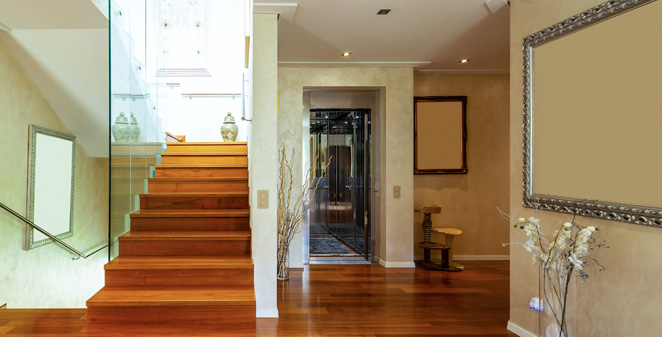 A residential elevator can…
Increase Your Property Value
Home elevator installation adds significant value to your home, which means it can be a profitable investment. Many prospective homebuyers like to see homes with elevator access. Many are looking to the future when accessibility could be an issue for them.
Homebuyers are on the lookout for ways they can age in place. Making upgrades and home improvements that maintain a certain level of mobility and comfort throughout the years will be valuable to them. Even if you don't plan on selling anytime soon, use a residential elevator to increase your home's resale value.
Aid in Functionality
Elevators for home use make it easier to climb stairs or move heavy, bulky items. This functionality becomes important when transporting bags of groceries, decorations, luggage and sports equipment every day. People who require greater physical effort to navigate their multi-level home benefit from an elevator the most, as it eliminates a lot of the legwork that comes with traversing the house.
Enhance Home Security and Safety
Small children and those with mobility issues can eliminate accidents that could occur by constantly going up and down stairs. Some homes can limit access to an elevator that offers security against unauthorized use. A residential elevator as part of a broader security package can give homeowners peace of mind.
Provide More Convenience and Usability
Home elevators take up a lot less space than standard stairwells. This opens up the layout of any house, giving owners more space. If you invest in a residential elevator, you can more readily increase the useable square footage of your home, helping to boost future resale value. On top of that, you can rely on an elevator to carry your groceries, luggage, and children throughout the day without worries.
Make a Statement
Elevators add an air of style and sophistication to your home, with access to a wide variety of designs to match your décor. From pneumatic tubes and modern sleek cubes with stainless steel frames to polished glass walls and classical looks of wood veneer, you can't go wrong with all these accents to choose from.
Save Space
As technology progresses and engineers find out how they can reduce the amount of space that is required by the elevator and its corresponding motor, residential elevators can take on designs that use up less space than a stairwell. You can install them on the exterior of a house so they are flush with the wall or build one so it can effectively open up space that had been previously unused or unavailable.
Variety of Choice
The design of residential elevators can vary between units, as well as the method of power, such as cable, pneumatic or hydraulic. This gives you the freedom to narrow your options down to the one that's best for you. One big advantage to a home elevator is the level of customization available, from lighting and flooring to dimensions and materials.
Contact Mowrey Elevator
Ready to get started on the design and installation of a residential elevator? Contact us today!