We bet you don't really think about elevators! Well, we are here to let you know all the little things you never realized, from fun facts to interesting musings.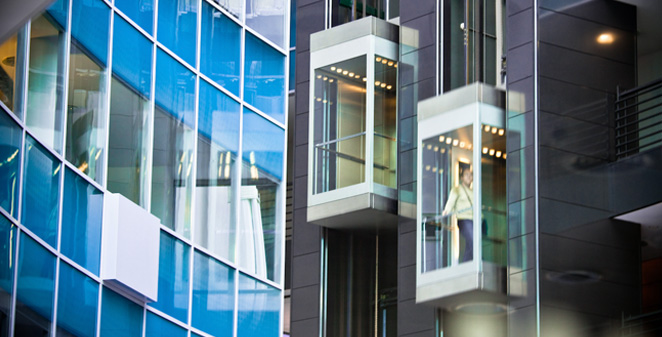 Did You Know?
Every three days, elevators carry the equivalent of the entire Earth's population, according to Elevator History.
Did You Know?
The inventor of the modern-day elevator, Elisha Graves Otis, created a company in 1857 that still supplies a large number of elevators in use today.
Did You Know?
The Lacerda Elevator in Salvador, Brazil happens to be the world's busiest elevator and the country's first, transporting 900,000 passengers each month. Each trip between Uptown and Downtown takes 30 seconds! It started operating in 1873 as the Conceição Hydraulic Lift, renamed in 1896 to honor the engineer who created it.
Did You Know?
Elevator music made its first appearance in the 1920s in an effort to calm fearful passengers who were skeptical about using elevators.
Did You Know?
The first public building elevator was installed in a nine-story high rise building in New York City.
Did You Know?
About 18 billion elevator trips take place annually in the United States. Do you remember when you took your last elevator ride? For that matter, do you remember your very first elevator ride and how you felt?
Did You Know?
Statistically, elevators are the safest way to travel compared with other modes of transportation. In fact, elevators are 20 times safer than escalators. Despite fears of becoming stuck or stranded, or of free-falling, riding in an elevator is much safer than riding in a car. About 26 people per year die in elevator-related accidents (mostly elevator technicians rather than passengers) but 26 people die every hour in car accidents.
Did You Know?
Since the number 13 is considered unlucky in many countries, you'll find that a lot of buildings do not have a 13th floor. As of 2002, approximately 85 percent of buildings containing elevators do not have a #13 button. As a side note, triskaidekaphobia refers to the fear of the number 13.
Did You Know?
There are approximately 1,750 miles of elevator shafts compared with 840 miles of subway tracks.
Did You Know?
Primitive elevators date back to the 3rd century BC Greece, invented by Mathematician Archimedes.
Did You Know?
Mowrey Elevator has been around for 40 years providing top-notch, reliable and high-quality elevator sales, installation and repair. Need help? Call us now at 800-441-4449.