With a whole new year before us, we look forward to a multitude of innovations – and the world of elevators is no different. The elevators of tomorrow need to continue to be energy efficient, space saving, sustainable, low in maintenance and time efficient. On top of that, they have to be cost efficient, durable, and most of all, safe.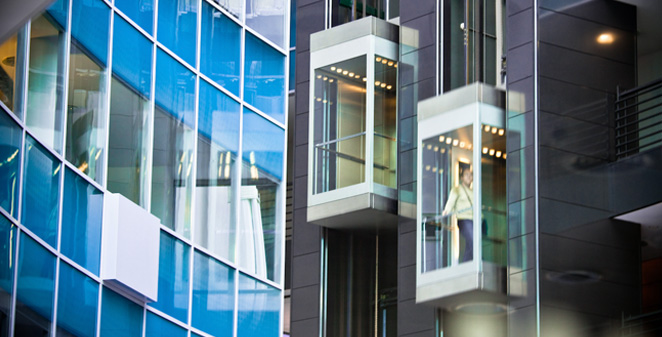 The continuing advancement of urbanization is leading to a skyrocketing demand for elevators and lifts, for both residential and commercial purposes.
Here's a look at some of the trends that we are watching for 2021. In the meantime, check out our industry updates.
Sensors and cloud connectivity: With these smart applications, the need for repair can be detected even before actual damage has occurred. Those initial breakdowns can be sensed prior to them becoming an issue that would cause the breakdown of the elevator.
Smart lifts are able to predict future problems so technicians can be proactive in fixing them.
Innovative elevator companies such as MULTI have created the first cable-less elevator on the planet that's able to move vertically and horizontally, ideal for mega-high-rise buildings. Because these elevators use much less shaft space, the usable area of the structure increases by up to 25 percent.
Companies like Schindler Ahead offer a revolutionary digital system featuring closed-loop maintenance, interaction, and monitoring for elevators and escalators. This type of system relies on real-time data and insights, two-way communication and predictive analytics.
The longest double-deck lift in the world is located in Korea, and it's built for speed, carrying more than 50 passengers in just one minute with one hoistway. The technology comes from elevator giant Otis.
Some elevators even include seismic sensors that have the capability to detect potential earthquakes or even a building's movement as a result of stiff winds. Escape routes are included whereby passengers can be brought to safety if an emergency were to arise.
Double-deck systems assign cabs to the odd or even floors during peak traffic times. This will, for instance, reduce how many stops must be made during rush hour from 9 to 5. By extension, it reduces passenger wait times as well.
VR: Repair and troubleshooting tasks can be very invasive. Thanks to gadgets like the HoloLens, technicians can view the elevator and all components without have to climb several sets of stairs or drill holes. Using the VR headset, the technician can explore the lift using hand motions, find out what the problem is, and then make the repair.
QR codes: Especially useful during a post-pandemic world that reduces touching, technology offered by the likes of the mobile app EyeRIS allows passengers to scan the elevator's QR code to select their destination floor.
Contact Mowrey Elevator
Keep checking back this year as we offer the latest innovative designs in elevator and lift mechanisms, technology and accessories. To schedule a repair, call us at 800-441-4449.