Owning a large home can be a blessing and a curse at the same time. It can be exhausting walking up and down one or more flights of stairs, especially when saddled with trays of food, laundry baskets, sports equipment and luggage. Have you thought about making things easier on yourself and investing in an elevator?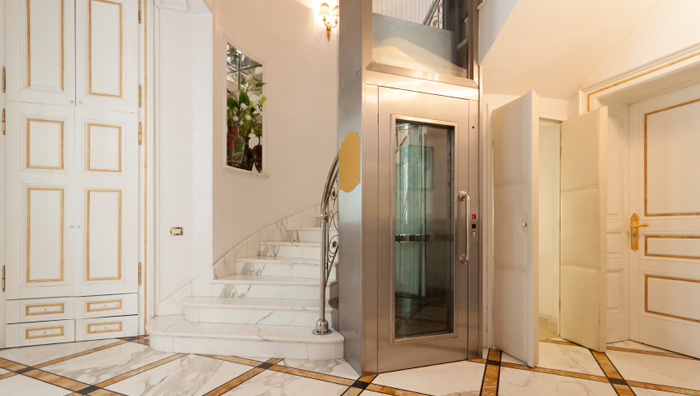 We're not talking ones you see in high rises and office buildings. We're talking a residential elevator on a smaller scale, or perhaps a dumbwaiter, or wheelchair lift. Here are some signs that an elevator may be a good fit for you.
You love to cook, entertain, and serve. If your kitchen is on the first floor and you have to serve guests on another floor, your only option is to haul trays of food up and down flights of stairs. Rather than put yourself as well as your home-cooked meal at risk, invest in a dumbwaiter. Then you can simply place trays of food inside and send it to the desired floor. This way, you won't risk falling, staining your rug from spills, getting burns from hot food, or losing a day's work in the kitchen with a wasted meal.
You have a lot of laundry to do. We all know how exhausting it is to lug baskets of laundry from floor to floor. Those bins are substantially heavy and if you're trudging up several flights of stairs from the basement, you can risk falling or tripping. A dumbwaiter also comes in handy in this instance.
You go on a lot of trips. With traveling comes a lot of luggage. It's no fun to drag hundreds of pounds of luggage from upstairs to the front door out to the car. Make this task easier by setting your luggage in the dumbwaiter and letting it take care of the 50 pounds of stuff contained in each piece. Or you could arrange a buddy system and send your stuff down in a regular elevator to a friend or family member waiting below. You'll save your back and neck!
You have kids who love sports. If you spend half your time lugging in stinky football, soccer, and hockey equipment after every practice, you know how heavy this gear can get. Have your kids throw their stuff in the dumbwaiter on the first floor and effortlessly remove it on another, and vice versa.
You have disabilities or a loved one with disabilities. It can be physically stressful, exhausting or even downright impossible to carry groceries, luggage and laundry from floor to floor when you are disabled in some way. By using a wheelchair lift, you minimize that physical stress and hardship, as awkward positions and heavy physical work are the two top factors that contribute to neck injuries, says WebMD.
You want to increase your property value. Elevators and dumbwaiters in residential homes can boost property value. Doesn't matter if you're not planning on selling in the near future. When you do, though, having an elevator or wheelchair lift installed will be a major selling point, especially for aging or disabled people, or large families with children.
Interested to know more about residential elevator installation? Call Mowrey Elevator today.