There are many things to consider when choosing between a stair lift and a home elevator. The one you settle on will depend on your needs, your situation, your lifestyle, your space constraints and your budget.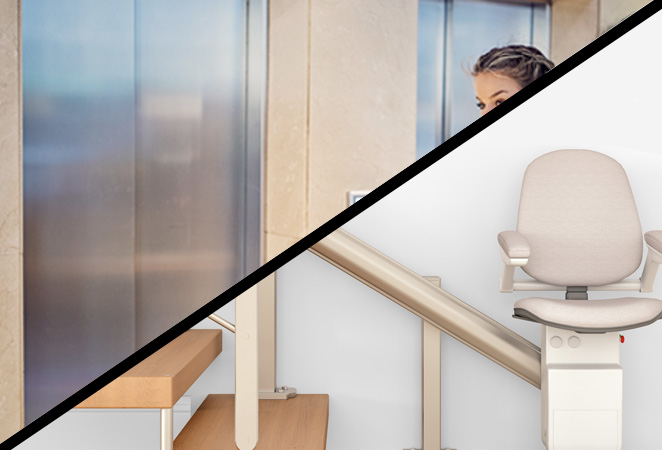 Let's go over the features of both.
Stair Lifts
A stair lift, or stair chair, is a cost-effective way to navigate stairs. If you have mobility issues and can't climb up and down stairs easily, a stair lift is a good choice. Whether due to tired joints or a medical issue, there are all different kinds of stair lifts. Overall, they're great for people who can't easily bend at the knees. You can put them inside or outside the home, and they can be made curved or straight, or even be installed on both sides of the staircase.
The biggest expense involved with a stair lift, aside from the lift itself, is the addition of an electrical outlet at the bottom of the stairs.
Elevators
Elevators can accomplish the same thing as a stair lift but can accommodate an entire wheelchair. They're more invasive and construction costs are higher because you have to build a hoistway. Most of them feature swinging or sliding doors and a gate, available in hydraulic or cable drive operations. It offers a smooth, quiet, quick ride.
Adding an elevator to your home will take longer than adding a simple stair lift, but you can do more with an elevator. You don't just have to have mobility issues to add an elevator to your home. You may just want the extra help to transport items between floors with ease. Perhaps you have a large family who is very involved in sports. You can use an elevator to transport all their sporting equipment from floor to floor as needed.
Or maybe you do a lot of laundry and can't be taking loads of clothing up and down stairs all day. Put the baskets in the elevator, and voila, you're all set. If you travel a lot, an elevator will come in handy for transporting luggage between floors.
If you think about it, elevators offer a lot of benefits for homeowners, not just those who can't get around physically.
It could take up to six months to add an elevator to your home, what with the permits and construction process, whereas a stair lift can be installed in a day and comes with a much lower price tag. However, stair lifts won't give you the style and return on investment that an elevator will, especially a shaftless elevator which doesn't require a lot of renovation.
Potential buyers will probably see value in an elevator when buying a home, whereas a new family buying the home of an older couple who installed a stairlift may not be as appealing.
As you can see, there are many pros and cons to each option. Need help deciding? Call Mowrey today!