Chances are, you don't think much about the design components of any commercial elevator you may encounter on a daily basis. Yet, there are professionals whose job it is to ensure the design of a commercial elevator not only looks aesthetically pleasing but also complements its functionality and safety.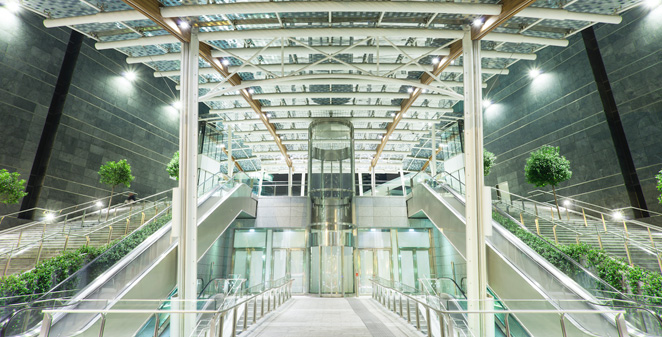 As a building owner, it's important to understand that proper commercial elevator cab design adds significant value to your building as a whole, whether you have just a few floors or a high rise. Here are the most important considerations when it comes to commercial elevator design.
Space Planning
The space design for commercial elevators plays a critical role in the transformation of how it is perceived within the building. You may be able to cram an elevator off to the side but if it blends in and isn't aesthetically pleasing or easy to find, you've lost the design battle from the get-go.
Correctly planning for the placement of an elevator is something that architects take great pride in. A well-planned elevator system not only adds visual beauty to the space, it helps with the flow of the layout and directly impacts the user experience.
Lighting
Another key factor in commercial elevator design is lighting. If you want optimal natural lighting, add a glass elevator that pulls natural light from the ceiling. Or, for non-glass elevators, you could incorporate flat lights on the floor or ceiling, or even highly-focused lights that direct vision to all focal points.
Don't forget about accent lighting, which adds style and sophistication to any commercial elevator. You'll see this kind of lighting used in museums and at art exhibits, for example. You can use the same concept in and around your commercial elevator for an impactful experience.
Architecture
Your commercial elevator needs to combine harmony and symmetry with the overall architectural design concept. Selecting an elevator with a unique architectural design will result in eye-catching elements that not only bolster the structural integrity of the unit but the value of the project as well.
Materials
Material selection is another big factor in optimal commercial elevator design. You have many choices at your disposal when it comes to the materials you will select for your elevator, such as:
Glass: Both flat and curved glass are great materials for commercial elevators, as they visually merge the living space and nature for a roomier atmosphere.Especially when you have a 360–degreeview outward, you can create a sense of peace and space to your elevator.
Wood veneer: This material combines superiordurability with the traditional warmth of wood. Choose from oak, white oak, cherry, birch, walnut, etc.
Stainless steel: This material creates a modern character with unique lighting effects, longevity, and durability. Providing crisp, clean lines, stainless steel is a wise choice of many architects when designing commercial elevators.
Contact Mowrey Elevator
As you can see, there are many considerations that go into commercial elevator design. We have all the products you need to design the ideal elevator for your business. Call us today!