The entryways to your elevators are just as crucial from a design and functionality standpoint as the elevators themselves. We thought we would discuss the features an elevator entryway should have, as well as the design aesthetic and importance of the overall space. Elevator entryways are basically comprised of the lobby area directly in front of the elevator, or bank of elevators. They should frame the cabs in such a way as to define the area in an aesthetically pleasing view.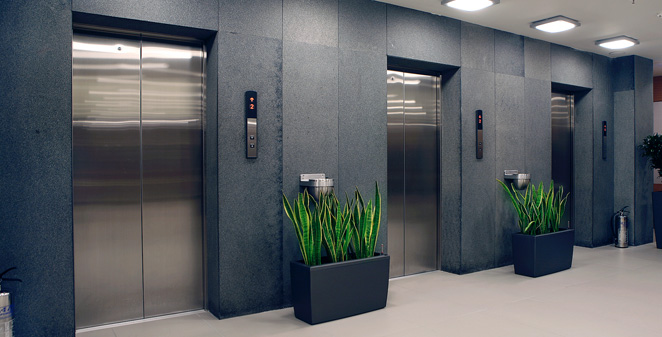 Whether you own a 50-story high rise in a city or a five-story apartment building, visitors employees, guests and tenants will be spending a lot of time each day in your entryway as they wait for the next elevator. It's important to make their experience as pleasant as possible. A drab, boring entryway won't impress new clients but one that features all the latest design elements and bells and whistles will.
Of course, safety comes into play, as this is where passengers will be stepping on and off the platform. But aesthetics also has a lot to do with it. That's because this interior doorway area is often the first thing people see when they enter your building. Think of your elevator lobby as the book cover to your novel. It has to grab people's attention so they continue on in intrigued confidence, with a little bit of "wow" factor thrown in.
The elevator is the safest form of vertical transportation, and you want people to understand that you don't take that responsibility lightly. As a trusted guardian of their safety, convenience and comfort, you want to show people you have them protected while showcasing everything in an aesthetically pleasing light.
Whether tenants on their way to work, clients on their way up for a big meeting, tourists visiting the top floor for an impressive aerial view of the city, medical professionals reporting to work, or one friend visiting another, the entryway says a lot about your building and your reputation.
Design Details
An elevator lobby has to blend well into its surroundings and the interior of the elevator, so be sure to convey design elements from the surrounding environment into the lobby. If the rest of the floor is designed with sleek wood features, pull that design feature into the entryway as well. If the elevator has wall-to-wall mirrors inside, add mirrors lining the lobby as well for even more illusion of space.
Remember that the lobby is a transitional area between the outside world and the building. Make that transition smooth and not so stark, by incorporating visually-interesting pieces of art, such as photography, sculptures or paintings. This enhances the space, classes it up, and gives people something to admire as they wait for their elevator to arrive.
Sufficient lighting is also essential. You don't want people navigating the entryway bathed in dim light – this is a safety issue. Add diffused lights for subtle, consistent illumination. Use low-glare lights but provide plenty of them. Offset those with task lighting such as wall mountings and sconces around critical features such as elevator buttons and even artwork.
If you need help building your elevator entryway, Mowrey Elevator invites you to observe our layouts and then give us a call to work through your lobby design.